Product Name: Scent Samples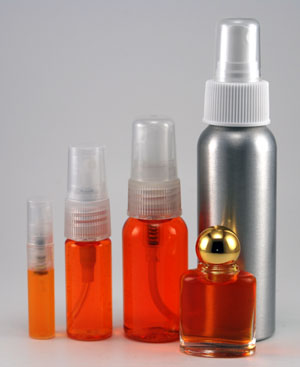 Not for Sale; please leave rating/comments
scents in evaluation
Scents now in evaluation, not yet for sale; samples are light body spray strength.
If you've received a scent sample, please leave rating and/or comments on the detail page (Rate This Item)
. Please be sure to indicate which scent # you're rating or describing in the comments section. Describe the scent for others, if you can. All are created only with pure essential oils, no "fragrance oils", in traditional alcohol/water/glycerine base.
New scents are:
TJ - a light lavender/ylang-ylang/vanilla, a spicy, slightly musky scent, approriate for either gender, goes well with TJ Bath Salts, Lavender or Sweet Laurel castille soaps.
PurelyRose - sweet, pure rose, goes well with any of the floral soaps, gels, or PurelyRose Bath Salts, a very feminine scent.
OrangeBlossom (a/k/a Neroli) - my personal favorite, floral with citrus top note, goes well with the Pink Grapefruit glycerine soap or any of the shower gels; a not too sweet, fruity, feminine scent.
Jasmine3 - if you like night blooming jasmine, this is the one for you; very sensual, goes well with Jasmine/Rose castille, Sensual Delight or Royal Musk glycerine soap, or Floral Delight gel; a sweetly feminine scent.
Our personal body scents meet or exceed standards for 'perfume', 'toilet water', etc. classifications. (perfume primer). We use only 100% pure essential oils to create these scent-sations (sorry, I couldn't resist), with never less than the usual ratio of scent to carrier. Please don't overdo scent application -- a little goes a long way, especially with true perfumes, toilet water, or cologne. Body Spray/Splash is a much more diluted product, but you still want to wear too little instead of too much. Body Splash and Eau de Toilette available in 10, 30, or 80 mL spray (or 2 mL spray suggested as a sample); Eau de Parfum and Perfume Extract (Pure Perfume) available in 4 mL mister (1/8 oz) and 10 mL (1/3 oz) screw top glass bottles. Perfumes available as conventional alcohol/water based and as oil based. (One liquid ounce is about 30 mL.)

Our products are cruelty free, made with 100% pure therapeutic grade, organically grown, sustainably harvested essential oils (not fragrance oils), vegetable extracts, oils and waxes, natural minerals and salts.
Notice:
Use only as directed. Keep out of reach of children and pets. Not for consumption. Do not get into eyes. Do not inhale sprayed mist. Do not use concentrated products without dilution. Do not leave burning candle unattended. Do not attempt to leap tall buildings in a single bound. Really, just use common sense with these (or any other) products.
Disclaimer
The statements made on this website have not been evaluated by the FDA (U.S. Food & Drug Administration). Our products are not intended to prevent, cure, treat, or mitigate disease or to affect a structure or function of the body. If a condition persists, please contact your physician or health care provider. The information provided by this website or this company is not a substitute for a face-to-face consultation with a health care provider, and should not be construed as individual medical advice.