Natural Wonder Living Service, Shipping, Custom Orders
Thank you for visiting our web store. We are located in Westminster, Maryland. Our main phone is (410)848-7822. If you prefer, you can email gdobson@NaturalWonderLiving.com. We want to hear from you. Your satisfaction is very important to us.

We strive for 100% customer satisfaction. If something isn't right, please let us know (use the 'Contact Us' link at the bottom of the left menu, or the phone or email above), and we'll try to make it right. If you're as pleased with our products as we think you'll be, please leave a product rating and feedback on your purchases (and free samples) to let others know about your experience (coming soon, when leaving feedback you'll receive a discount coupon towards your next purchase). Be sure to tell your friends, family, and neighbors about us too! Also, you can email just to let us know a concern, question, suggestion, or comment about this web site or our products. We'd love to hear from you (no spam, we report it).

We have been handcrafting Natural Wonder Living products and working with essential oils for many years. We've recently decided to offer our products to the public, via this internet store. We create our natural skin care and natural home care products using only pure essential oils, vegetable oils and waxes, natural minerals, salts, and nutrients. We do not use animal fats or oils in our creations (no emu oil here). We do not use petroleum or its by-products in our creations (no 'mineral oil' or 'fragrance oil' here, either).

Our products may be available at selected boutiques. Contact us to discuss specialized product formulations or wholesale pricing.
Cart, CheckOut, and Sales Tax
We use Paypal as our payment processor. You do not need a Paypal account to use Paypal checkout. You can use your Paypal account if you have one. If you don't have one, you can still use any credit card via Paypal. Paypal is secure, fast, and easy. There is no fee to you for using Paypal. When you click 'Add to Cart' or 'View Cart' from our site, Paypal will open in a separate browser window or tab page (depending on your browser). You can click back to our site or you can 'Continue Shopping' or 'Checkout Now' from the Paypal site. If you 'Continue Shopping', the Paypal window/tab will close. If you just click back to our site, the Paypal window will remain open and be updated with each additional 'Add to Cart' or 'View Cart' click you make. Once you're finished shopping, choose 'Checkout Now' from the Paypal window and follow checkout directions. You can reach the Paypal window by clicking 'View Cart' in the top right corner of each of our product pages. If you have a Paypal account and choose to pay with an e-check, your order will not be shipped until the e-check clears.

We must collect 6% Maryland Sales Tax on sales to all Maryland addresses, unless you're sales tax exempt (proof of exemption required). Sales tax will be computed at check out. Sales tax is not charged on the shipping fee, just product costs. The 'Pick Up' shipping option is ONLY for local friends and family, by appointment. We are not really equipped to deal with pick-ups.


Shipping
We ship anywhere the US Postal Service delivers. We ship USPS Priority Mail with delivery confirmation, as long as your order will fit into one of the standard Priority Mail Flat Rate boxes. Postage arrival times for zoned mail are based on mail piece weight and the distance the mail piece travels using these zone assignments. Originating zip code is 212 or 298. To calculate your "zone", go here and enter your zip code. This will estimate when you will receive your package. Most packages arrive within 2-4 business days, but it could be as long as 7 business days. We offer flat rate shipping, based on estimated size of the items in your order.
If all your items are small (most soaps, concentrated household cleaners) they should fit into the USPS Priority Mail Express small flat rate box (about $6).
For most of our personal care products and smaller gift baskets, the USPS Priority Mail Express medium flat rate shipping charge is about $12.
If your order is for larger items (most of our pillar candles, larger gift baskets) the USPS Priority Mail Express shipping charge is about $17 (somewhat less for APO/FPO delivery addresses).
These shipping rates are based on USPS Priority Mail Express Flat Rate Fees (as of November, 2013). We do not charge a handling fee. What the Post Office charges is what you pay for shipping. Make the most of your order -- either stay with small items or order plenty product to take advantage of the space in the larger box (remember to allow for "packing material" space). This way, you save on shipping costs and we all benefit a bit from less consumption of packaging and fuel. If your order is larger than will fit into a single, large USPS flat rate box, we will contact you to discuss shipping. The checkout web site (Paypal) will be unable to correctly calculate shipping of multiple, very large items (like candles). Standard orders received and payment cleared from midnight to 11 a.m. (Eastern time) Monday thru Friday usually go out the same day. Orders received outside those hours will go out the next business day, as long as payment has cleared. If payment does not clear immediately, the order will be shipped as soon as we are notified that the payment has cleared. You will be emailed your tracking number when your package is shipped.


Custom Orders
Candles can be special ordered, even if they're not 'Special' candles. If you'd like a certain color, shape, size, or scent, pillar or container, please contact us.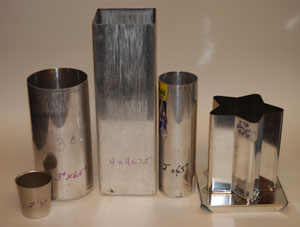 Custom candles are available as pure soy container "jelly jar" type (appx 6-7 oz), or pillar sizes shown in image above. Except for the floater and votive, heights are adjustable downward, within reason. Pillars are made with 100% soy/botanical oil blend wax (need the strength to stand), or 100% palm wax, or soy/palm proprietary blend. Only vegetable oils and waxes, no petroleum by-products or paraffin waxes. We use only EOs, not fragrance oils. We use cotton wicks. Candle color can be added if the EO color alone isn't enough. The cost of a custom candle will depend on the size and type of candle, and the EOs used to best match your order.
Star - 3.75 inches point to point, max 4.5 inches tall
Square Pillar - 4x4 inches square, max 9.75 inches tall
Round Pillar Small - 2 inch diameter, max 6.5 inches tall (slightly concave at top)
Round Pillar Large - 3 inch diameter, max 6.5 inches tall (slightly concave at top)
Floater Petal - not shown in image - appx 2 inch diameter, 1 inch tall (same as Petal shape guest soap, can also be made as a 'wax tart'; as a 'tart' it would be soy wax only)
Standard Votive - about 1.75 inch diameter at top, tapering to about 1.5 inches at base, 2 inches tall

Several scents could be appropriate as room sprays, aromatherapy candles, or personal body scents. Is the scent of that body wash just begging to be a body spray? Do you wish you could wrap yourself in the scent of that candle? Would you really like to have that relaxing or sensual bath oil or soap fragrance in a massage lotion or oil (grape seed, jojoba), or perfume? Let us know what you'd like. We'll do our best to make it happen.


Returns
It is important to us that you are happy with your purchase. If something is not quite right, please let us know. If you feel you must return an item, a return label can be printed from your Paypal account. You must pay return shipping. Be sure to use a "delivery confirmation" service. You must have notified us that a problem exists, and we must agree BEFORE YOU RETURN THE ITEM as to what steps NWL can take to make you happy.