Product Name: SG - Spike/Rose Shower Gel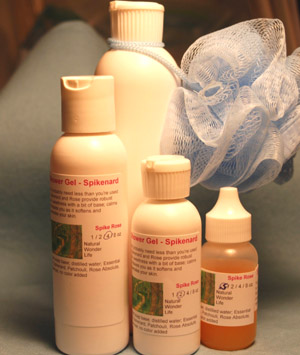 See Label
Shower Gel - Spikenard/Rose
Limited Selection
Very thick, squeezabe shower gel.
Free shower "poof" (while supplies last) with purchase of 4oz or larger size. Indulge in heady florals of spikenard and rose, bathe your senses and treat your skin while cleansing and hydrating as this rich lather rejuvenates your skin. Can be used as bubble bath in a tub. Use less Spike Rose until you see the amount of foam it produces. I did not realize how expensive this formula would be when I made it. I don't know if I'll repeat this or not -- depends on whether enough people like the deep, heady floral scent and skin rejuvenation properties it provides. No color added.
Our soaps are made from a liquid, glycerine, or castille soap base. Glycerine is a humectant for your skin (drawing moisture into dehydrated skin). Castille is the original olive oil soap used in Europe for over 100 years. Generally speaking, glycerine soaps provide that fresh, soft, squeaky clean feeling to your skin, while castille soaps provide a smoother feeling to your skin. We use only 100% pure Essential Oils to provide skin benefits appropriate to the forumulation. Usually, we only use color provided by the EOs themselves. If we add any color beyond the EOs themselves, we use botanical extract colorants (beets, tumeric, berries, etc.) and mineral oxides. (Test user feedback requests tints in our clear liquid and glycerine soap products -- testers said it is too hard to see an almost clear product in the shower or bath.)

Liquid Soap products available in 8, 4, 2 oz. and sample sizes. Our liquid soaps are more condensed than you are probably accustomed to. We do not add extra water to dilute our product then add thickeners to trick you. You will use less of our liquid soap products because we're not selling you excess water.

All products are individually hand crafted, so individual weights may vary slightly from unit to unit.

Our products are cruelty free, made with 100% pure therapeutic grade, organically grown, sustainably harvested essential oils (not fragrance oils), vegetable extracts, oils and waxes, natural minerals and salts.
Notice:
Use only as directed. Keep out of reach of children and pets. Not for consumption. Do not get into eyes. Do not inhale sprayed mist. Do not use concentrated products without dilution. Do not leave burning candle unattended. Do not attempt to leap tall buildings in a single bound. Really, just use common sense with these (or any other) products.
Disclaimer
The statements made on this website have not been evaluated by the FDA (U.S. Food & Drug Administration). Our products are not intended to prevent, cure, treat, or mitigate disease or to affect a structure or function of the body. If a condition persists, please contact your physician or health care provider. The information provided by this website or this company is not a substitute for a face-to-face consultation with a health care provider, and should not be construed as individual medical advice.