Product Name: BABM (Bathroom Spray)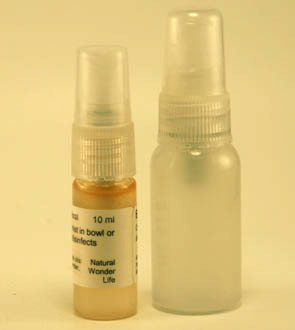 See Label
BeforeAfter BM - CitrusSpice
**OUT OF STOCK**
Disinfecting, deodorizing mist for bathroom
One mist in bowl before sitting, one mist in bowl or air after standing; eliminates odors as it disinfects; Scent barely lingers. The 10 mL size lasts about a month when used twice a day, 2 mists each time, or keep it in your purse for use in public rest rooms; use the larger 30 mL (1 oz) size at home. Shake before using.
Our household cleaning products and air fresheners are made with 100% pure essential oils and are usually sold in concentrated form (BABM is an exception -- it comes ready to use in a reliable mist bottle). We believe you can buy your own spray bottle, add your own distilled water, and save money on shipping, too. You must follow label dilution instructions to use these condensed products. The concentrated product is not to be used directly from the bottle without first adding it to distilled water. Also, do not mix our cleaning products with commerical cleaning products. We don't know what's in the commercial products that may react with the essential oils. You can mix our cleaning products with each other as indicated on the label.

Our products are cruelty free, made with 100% pure therapeutic grade, organically grown, sustainably harvested essential oils (not fragrance oils), vegetable extracts, oils and waxes, natural minerals and salts.
Notice:
Use only as directed. Keep out of reach of children and pets. Not for consumption. Do not get into eyes. Do not inhale sprayed mist. Do not use concentrated products without dilution. Do not leave burning candle unattended. Do not attempt to leap tall buildings in a single bound. Really, just use common sense with these (or any other) products.
Disclaimer
The statements made on this website have not been evaluated by the FDA (U.S. Food & Drug Administration). Our products are not intended to prevent, cure, treat, or mitigate disease or to affect a structure or function of the body. If a condition persists, please contact your physician or health care provider. The information provided by this website or this company is not a substitute for a face-to-face consultation with a health care provider, and should not be construed as individual medical advice.