Product Name: Eye and Lip Crème - All Skin Types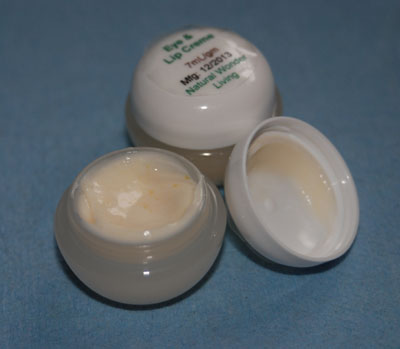 Eye & Lip Crème - All Skin Types
Limited Selection
Eye & Lip Crème for all skin types
Eye and Lip crème is blended with our all natural base to moisturize delicate tissues around eyes and lips, where signs of aging often begin. Looser in formulation than our face crème, it is quickly absorbed into delicate skin, moisturizing, enriching, and providing more "glow". A tiny dot on each eyelid and lip; gently smooth in once or twice daily. Beneficial as a preventative and as a restorative treatment. Sample size is 3gm (enough for several applications), full size is 7gm.
Our cremes and lotions are not like the ones you buy at the department or drug stores. Our cremes and lotions are much richer, creamier, and maybe thicker, so you use less product. Use tiny dots of our face and hand cremes, instead of "fingerfulls" of commercial products. A quarter sized dollop of our body lotion used on moist skin is more than enough to moisturize your entire upper body and arms. (Instead of "dollops", I use dots along my arms, shoulders and torso, then smooth them in.) Our personal care lotions and cremes are made from a natural base. We add only pure vegetable oils, 100% pure, skin safe essential oils, vegetable glycerine, marine collagen and similar skin worthy ingredients to produce the best lotions and cremes for your skin type. Our serum is the pure version of the proprietary EO blend added to the lotion and creme products. UPDATE Dec, 2013 - I have just discovered that the clear plastic 1, 2, & 4oz lotion bottles are actually 1.25, 2.50, 5.25oz lotion bottles -- that is a big difference! You may notice a labeling and price adjustment because of this. The cream "pots" and "jars" seem to be true measures though. Thanks for your understanding.

Our products are cruelty free, made with 100% pure therapeutic grade, organically grown, sustainably harvested essential oils (not fragrance oils), vegetable extracts, oils and waxes, natural minerals and salts.
Notice:
Use only as directed. Keep out of reach of children and pets. Not for consumption. Do not get into eyes. Do not inhale sprayed mist. Do not use concentrated products without dilution. Do not leave burning candle unattended. Do not attempt to leap tall buildings in a single bound. Really, just use common sense with these (or any other) products.
Disclaimer
The statements made on this website have not been evaluated by the FDA (U.S. Food & Drug Administration). Our products are not intended to prevent, cure, treat, or mitigate disease or to affect a structure or function of the body. If a condition persists, please contact your physician or health care provider. The information provided by this website or this company is not a substitute for a face-to-face consultation with a health care provider, and should not be construed as individual medical advice.