Product Name: Energy & Health Candle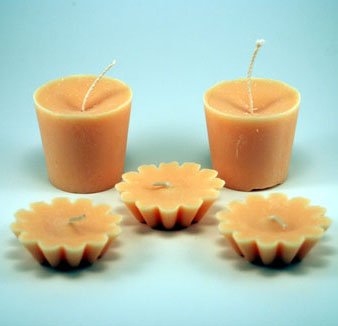 Votives(2) and Floaters(3) Set
*** LAST ONE ***
soy wax blend, creamy yellow color
Votives 2 oz ea; floaters .5 oz ea; citrus/floral scent; EOs to promote health and energy. The votives are perfect (burn time about 8 hrs), but these floaters have the same wicks as the LtGrn prosperity floaters; mis-sized wick for this floater (burn time appx 2 hours); set priced accordingly.
Our container candles are made with 100% soy wax. This provides a cleaner burning candle and delivers a better candle performance than paraffin wax. Soy wax is not strong enough to stand alone, so pillar and votive candles are made from palm wax, or our propriety soy/palm wax blend. Only 100% pure Essential Oils are used to provide an aromatherapy benefit. We do not use 'fragrance oils' or other petroleum by-products. We use only candle approved dyes. Our 'special' candles not only provide an aromatherapy benefit, but provide the physical, mental, and emotional benefits to enhance specific aspects of your life. We use cotton wicks which curl as they burn, helping keep the flame centered. Smallest votives (1.5 oz) and tea lights burn approximately 8-10 hours; regular size votives burn approximately 15 hours (in appropriate votive container). Larger candles burn proportionately longer; for instance, the soy 'jelly jar' candle will burn over 80 hours.

Our products are cruelty free, made with 100% pure therapeutic grade, organically grown, sustainably harvested essential oils (not fragrance oils), vegetable extracts, oils and waxes, natural minerals and salts.
Notice:
Use only as directed. Keep out of reach of children and pets. Not for consumption. Do not get into eyes. Do not inhale sprayed mist. Do not use concentrated products without dilution. Do not leave burning candle unattended. Do not attempt to leap tall buildings in a single bound. Really, just use common sense with these (or any other) products.
Disclaimer
The statements made on this website have not been evaluated by the FDA (U.S. Food & Drug Administration). Our products are not intended to prevent, cure, treat, or mitigate disease or to affect a structure or function of the body. If a condition persists, please contact your physician or health care provider. The information provided by this website or this company is not a substitute for a face-to-face consultation with a health care provider, and should not be construed as individual medical advice.