Product Name: Mint Votives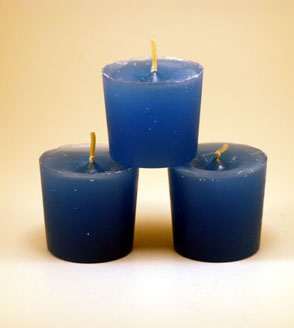 Mint Votives Set of 3 or Individually
Limited Selection
paraffin wax
Slightly smaller votives, scented only with 100% pure EO essences to clear the mind and promote clarity and concentration; light spearmint scent; cool blue color; available individually or as a set of 3. Will later be available in soy wax blend.
Our products are cruelty free, made with 100% pure therapeutic grade, organically grown, sustainably harvested essential oils (not fragrance oils), vegetable extracts, oils and waxes, natural minerals and salts.
Notice:
Use only as directed. Keep out of reach of children and pets. Not for consumption. Do not get into eyes. Do not inhale sprayed mist. Do not use concentrated products without dilution. Do not leave burning candle unattended. Do not attempt to leap tall buildings in a single bound. Really, just use common sense with these (or any other) products.
Disclaimer
The statements made on this website have not been evaluated by the FDA (U.S. Food & Drug Administration). Our products are not intended to prevent, cure, treat, or mitigate disease or to affect a structure or function of the body. If a condition persists, please contact your physician or health care provider. The information provided by this website or this company is not a substitute for a face-to-face consultation with a health care provider, and should not be construed as individual medical advice.